1Kings 3:11  5At Gibeon Yawhú appeared to Solomon in a dream by night; and Yawhú said, "Ask! What shall I give you?"
6And Solomon said: "You have shown great kindness to Your servant David my father, because he walked before
You in truth, in righteousness, and in uprightness of heart with You; You have continued this great kindness for him, and You have given him a son to sit on his throne, as it is this day. 7"Now, O Yawhú my Almighty One, You have made Your servant king instead of my father David, but I am a little child; I do not know how to go out or come in. 8"And Your servant is in the midst of Your people whom You have chosen, a great people, too numerous to be numbered or counted.

An Understanding and Discerning Heart
]9"Therefore give to Your servant an understanding heart to judge Your people, that I may discern between good and evil. For who is able to judge this great people of Yours?"
10The speech pleased Yawhú, that Solomon had asked this thing. 11Then Yawhú said to him: "Because you have asked this thing, and have not asked; (a)….. long life for yourself, (b)….. riches for yourself, (c)…. life of your enemies (Self ambition )but have asked for yourself understanding to discern justice, 12"behold, I have done according to your words; see, I have given you a:
(1.)Wise and understanding heart, so that there has not been anyone like you before, nor shall any like you arise after you. 13"And I have also given you what you have not asked:
(2.) Riches and
(3.) Honor, so that there shall not be anyone like you among the kings all your days.
The Greater Solomon, Hoshay'ah  Maw-shee'-akh

Matthew 4:1-11 Then Hoshay'ah  was led up by the Spirit into the wilderness to be tempted by the devil. 2And when He had fasted forty days and forty nights, afterward He was hungry. 3Now when the tempter came to Him, …
The Almighty Son of Yaw-Eternal, Regent and ruler of our universe who is second only to His Father. Had left His splendour in heaven's realm on a mission to take on the frailty of a human body in the person of Hoshay'ah Maw-shee'-akh. This He did to become the acceptable offering for the sins of his people, conquer death in the flesh and make it possible for His followers to inherit the ultimate prise of Immortality.  
Because He is the Captain of our redemption and was the first reborn of many brethren to follow. At the age of twenty six and a half years of age after His Immersion by John, He was led by the Spirit into the wilderness alone to be tried. After forty days and nights of fasting when He was most vulnerable, the devil confronted Him so that he may tempt him.
Solomon of old
Chose wisely, because he did not ask forSelf ambition; namely;
a….. long life for himself,
b…..nor riches,
c….or the life of his  enemies
But chose instead:
1.) Discerning wisdom…  (A wise and understanding heart, in discerning justice to rule his people.)  Yawhú was pleased and gave him the other two as well:
(2) Riches and (3) Honour

For this reason Hoshay'ah the greater Solomon...
… was also put to the test and tempted by Satan on these three same basic aspects. As in the eyes of man, the value of these three acquired by an individual, largely determines the measure of his or her success and prosperity in the world.
It was with this in mind that the tempter, who is the master of deception, had carefully planned these three moves.
This was to be the greatest proverbial "chess competition" with the highest stakes ever to have taken place, in the history of our universe, namely; supremacy over heavens realm. Satan specifically chose this moment that he may apply them at a time of extreme disadvantage to Maw-shee'-akh to see whether he could default Him on one of these trials. The battle which had started many years ago in heaven between the pre-incarnated Mekaw-Yaw-uwl (Michael) and His angel's, and Lucifer (Satan) and his angel's, would have been "check mate" and forever lost to Satan. As a result, redemption to mankind would not have been able to have taken place and re-entrance thru heaven's gates would forever have been shut for all.

1.) Discerning wisdom on trial

" 5Then the devil took Him up into the Set-Apart city, set Him on the pinnacle of the temple, 6and said to Him, "If You are the Son of Yaw-Eternal, throw yourself down. For it is written: He shall give His angels charge over you, (Plm91: 11) and, 'In their hands they shall bear you up, lest you dash your foot against a stone.' "
Hoshay'ah said to him, "It is written again, 'You shall not tempt "Yaw-Eternal your Almighty One".So many times… in our pride and eagerness to prove our own abilities to others, we override all sensibility and take matters into our own hands. "While professing to be wise we become fools" and in so doing we lose the quest and miserably fail.
Motivated by our own vanity as humans and the fact that we take pleasure in "showing off" to others, we expect The Father as well as the angels to be at our beck and call and oblige our every whim or impulse. It is a fact that Heaven does not support our vain and carnal edification.
If one should be so presumptuous to continue on such a futile endeavor and misuse our gift, we will find ourselves completely isolated, with neither blessing nor support.

2.) Bread on trial….. (Basic sustenance or carnal need, riches, material acquisitions etc…

Matthew 4: 3 "If You are the Son of Yaw-Eternal, command that these stones become bread." 4But He answered and said, "It is written, 'Man shall not live by bread alone, but by every word that proceeds from the mouth of the Father.'
In the time… of temptation, Hoshay'ah  did not cheat or submit to using His "gifted" powers, and in so doing break the rules to relieve His human bodily and material needs, no matter how severe His plight after Forty Days. He chose rather as a human to depend on His Father's provision and word, likewise, as we as mortals are also expected to do.
In our lust and sometimes plain greed fueled by our desire to be better than others, we often pray and receive not, because we pray amiss. (A good example is the one who prays to win the Jackpot in the national sweepstake or lottery.)
Jas 4:3 Ye ask, and receive not, because ye ask amiss, that ye may consume it upon your lusts. (Lusts: or, pleasures)
3.) Honor, self-gratification, loyalty on trial
8Again, the devil took Him up on an exceedingly high mountain, and showed Him all the realms of the world and their splendor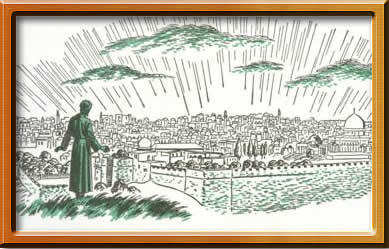 9And he said to Him, "All these things I will give
You if You will fall down and revere me."
After being… without food for forty days and nights a normal person would be close to death and one's resistance to temptation would be at an all-time low.
Although His mission to be the human lamb blood offering victim for the sins of the world was always before Him, His current weakness, due to frailty of body and mind, would make His plight seem utterly unbearable to follow thru.
The devil had now offered Him an easy alternative. But at what a price would that be? Esau of old had due to hunger sold his birthright to Jacob for far less. The question was now, what would Maw-shee'-akh choose?  Could His loyalty to His Father and His quest under extreme duress, be at stake? Could He be tempted to abort His mission and choose the easy way out?

10Then Hoshay'ah  said to him, "Away with you Satan! For it is written, 'You shall revere Yaw-Eternal your "Almighty One", and Him only you shall serve.' " 11Then the devil left Him, and behold, angels came and tended to Him.
"Check Mate"!! Hoshay'ah's victory and Satan's loss
Luke 4:14 Then Hoshay'ah returned in the power of the Spirit to Galilee, and news of Him went out through all the surrounding region.
Hoshay'ah's temptation as applied to us
And every man that striveth for the mastery is temperate in all things (1Co 9:25); but Maw-shee'-akh was beyond any other, for He fasted forty days and forty nights, in compliance with the type and example of Moses the great lawgiver, and of Uli-Yaw, the great reformer of the Old Covenant (Testament).
John the immerser, did those things that were moral, but for the miraculous (Joh 10:41); that honor was reserved for .Maw-shee'-akh.  Hoshay'ah  did not do these things for self-mortification (he had no corrupt desires); yet he fasted to set us the example, proving that a man may be in want of bread, and yet be favored in heaven.

The Tempter … delights in ensnaring those who spend their lives doing good especially when they first set out to do so, as was with Maw-shee'-akh (Messiah) in the wilderness.

Ecclesiasticus 2:1, My son, if thou come to serve Yawhú, prepare thyself for temptation.

This passage gives advice to all young believers to know what to expect, and to arm themselves accordingly.
To gain advantage… and to find a retreat for oneself, gives an opportunity for meditation and communion with The Father. It is imperative that all those who are called to an active life in serving Him, must have their hours set apart to contemplate or meditate before entering into His presence.  
We are not ready to speak of the spiritual matters of The Eternal in public, unless we have first dealt with those things in secret.

Hoshay'ah  was led by the Spirit into the Wilderness:

(a.) To give the tempter the opportunity to test Hoshay'ah  in solitude that he might have unrestricted access to Him, more so than what he could have had in the crowds. Note; though solitude is a friend to a good heart, the Tempter  knows how to subtly use it against us.
Be warned! Those who are alone in devotion, who would retire into dens and deserts, find themselves not out of reach of their spiritual enemies;

(b.) That the tempter might have leave to do his worst and to make Hoshay'ah 'svictory more illustrious, he gave the enemy sun, wind and hunger on his side, and yet Hoshay'ah baffled him. He gave the tempter advantage, "for the prince of this world had nothing on Him", but, the devil has on us, and therefore we must pray not to be led into temptation.

(c.) That Maw-shee'-akh might have an opportunity to do His best and that He might be exalted in His own strength; for so it was written, "I have trod the wine-press alone, and of the people there was none with me". Hoshay'ah entered into combat without another on his side.

(d.) He was directed to the combat. He did not willfully thrust Himself upon it, but He was led up by the Spirit to be tempted of the tempter. The Spirit that descended upon Him like a dove, made Him meek and yet also made Him bold.

Note, our care must be not to enter into temptation; but if The Father by his providence orders us into circumstances of temptation for our trial, we must not think it strange, but be spiritually aware. Be strong in Him, resist and be strong in your belief, and all shall be well. If we rely upon our own strength, we allow the deceiver to tempt us, and provoke The Father to leave us to ourselves. But, wherever The Father leads us, know that he will go along with us, bringing us thru more victorious.

(e.) To be tempted of the Deceiver and of him only.  Others are tempted when they are drawn aside of their own lust and enticed (Jas 1:14); the Deceiver takes hold of that handle and ploughs with this situation, then uses it to his own advantage. But Hoshay'ah  had nothing corrupt in His nature, therefore he was led securely, as a champion without any fear or trembling.

(f.) For a trial of His own condescension and humiliation. Temptations are fiery darts, thorns in the flesh, buffetings, siftings, wrestlings and combats, all of which denote hardship and suffering. Therefore Hoshay'ah submitted to them, because He would humble Himself in all things to be made like unto his brethren; thus He gave His back to the smiters.

(g.) For an occasion to the Deceiver's confusion. There is no conquest without a combat. Hoshay'ah was tempted, that he might overcome the tempter. The Deceiver tempted the first Adam and triumphed over him. "But he will not always triumph", the second Adam has overcome him and lead captivity captive.

A comforting thought to all the believers. In the temptation of Hoshay'ah, our enemy appears to be subtle, spiteful, and very daring in his temptations, but he is not invincible. Though he is armed like a strong man, yet the Captain of our redemption is stronger than he. It is a comfort to us to think that Hoshay'ah suffered, being tempted. However, temptations if not yielded to are not sins; they are afflictions only and may be the lot, of those with whom The Father is well-pleased. We have a High Priest who knows by experience what it is to be tempted, and who is therefore more tenderly in touch with the feeling of our infirmities in the hour of temptation, Heb 2:18; 4:15. But it is more of a comfort to think that Hoshay'ah conquered being tempted, and conquered for us. The enemy we grapple with, is a conquered, baffled, enemy, but what we take comfort in, is Hoshay'ah's victory over him, and through Him we are more than conquerors.
What a wonderful… conclusion to all of us who may at present also be going thru a very dark hour of trial or temptation. We may at present feel that things have been going downhill for such a long time, and that we have finally reached the bottom, with no relief in sight. We can now take comfort in the fact that we have a Maw-shee'-akh who is not insensitive to our needs. One who was tried to the limit, yet able to endure to the end. We also need to be assured as in the case of Maw-shee'-akh, at the end of trials, angels will be there to tend to us.
A word of encouragement,… which comes from a man who also new exactly what trials were about. His name was the Apostle Paul, and this is what he had to say:
Rom 8:35 Who shall separate us from the love of Maw-shee'-akh? Shall tribulation, or distress, or persecution, or famine, or nakedness, or peril, or sword?
 36 As it is written: "For Your sake we are killed all day long; We are accounted as sheep for the slaughter."
 37 Yet in all these things we are more than conquerors through Him who loved us.
 38 For I am persuaded that neither death nor life, nor angels nor principalities nor powers, nor things present nor things to come,
 39 nor height nor depth, nor any other created thing, shall be able to separate us from the love of Yaw-Eternal which is in Maw-shee'-akh, Yawhúshúa our Master.
May Yaw-Eternal the Father of love and peace be
            with you and guide you. May His richest
              blessings be upon all you, who revere
         and call on His blessed Name, thru His Son
                Yawhúshúa ourMaw-shee'-akh.
Shalom - Br. Harold.